Pedestrian Walkways | Safety Aisles
Charlotte NC | pedestrian walkways | safety aisles
Epoxy Warehouse Pedestrian Walkways | Safety Aisles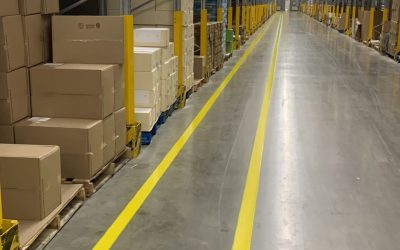 We are the most trusted choices for warehouse pedestrian walkways and safety aisles! Our crews work day and night, to most conveniently service our customers. For over 29 years, commercial property managers have trusted us with their large warehouse and distribution center floor marking projects.
Floor line striping in warehouses communicates that your facility is safe, organized and efficient.  Good floor marking systems will include lines to delineate lanes, aisles and paths of egress. Floor line markings are also used to indicate boundaries for freight storage and staging areas.
Since 1994, our crews have provided the safe installation of quality floor marking systems to help our customer's facilities operate safely and efficiently. Our crews have installed floor markings for facilities in several states. Our crews travel nationwide for large floor marking projects. Most of our projects are new construction jobs, so we are responsible for the new layout and installation of the coatings in facilities ranging from 300,000 to 5,000,000 square feet.
Warehouse Floor Shot Blasting
In addition to applying warehouse floor markings, we are often also tasked with prepping the concrete surface prior to the installation of the floor striping. Warehouse floors are often very smooth surfaces, to facilitate cleaning. Shot blasting (or bead blasting) is a process that involves a specialized piece of equipment throwing metal shot (beads) at the concrete surface to create a profile for the marking coating to better adhere.
Some of our floor marking service
Let us take the worry out of your large project!
Contact us NOW to discuss your Pedestrian Walkway painting project